Sewing, Sustainability and Fashion Podcasts
Do you listen to podcasts while you sew? I bounce between podcasts, audio books and old episodes of Grey's Anatomy. 
I put together a giant list of podcasts just in case you're on the hunt for a new one. While I've listened to many, I have not listened to all of these. I'm sure I'm missing lots of good ones, please comment below if you have a suggestion so they can be added. 
I broke them up into 3 categories. 
Sewing
Sustainability
Fashion
Sewing:
Helen Wilkinson and Caroline Somos host Love to Sew, a fun weekly podcast about making clothes, sewing community, and small business. They talk about their passion for sewing a handmade wardrobe and their daily lives as creative entrepreneurs. Listen to interviews with indie business owners and inspiring sewists who totally understand your obsession with sewing.
There is nothing better than sitting down with a hot cup of coffee with a new friend or an old friend or someone you just want to talk to and hearing their story, hearing their why, hearing what inspires them, and even hearing their struggles. There are makers around the world with really interesting stories, that we just don't get a chance to hear. A Coffee with Makers is my way to share those stories with all of you.
Hosted by Abby Glassenberg, While She Naps, is an interview and recommendation show for creative entrepreneurs, sewists, and makers.
Three sewists from different backgrounds — fashion, indie sewing and theater — discuss sewing topics and chat with big names from the sewing world. Join Meg Healy of BurdaStyle.com and Amanda Carestio and Kate Zaynard of Sew News and Creative Machine Embroidery magazines as they share their collective knowledge, insight and inspiration, connecting the sewing community and keeping listeners up-to-date on news and trends of sewing and fashion.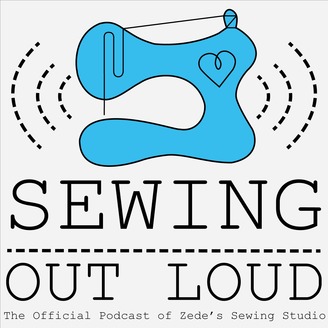 Learn the technical information you need to sew successfully from the fun ladies over at SewHere.com Zede and Mallory are a mother/daughter team who run Zede's Sewing Studio in Columbia, MO. They sell sewing machines, teach sewing classes and provide excellent sewing entertainment online and in-store!
A blog and podcast about modern creatives in the sewing industry.
The podcast for people who love to sew – from the people who love to write about sewing! Brought to you by the editors of Threads magazine, this insightful podcast takes on topics important to sewing enthusiasts. Listen in for humor, wisdom, and opinions from expert guests and the Threads staff as they discuss sewing techniques, fashion design, fitting conundrums, and more. 
Clothes Making Mavens is a sewing podcast about handmade fashion. Helena and Lori discuss their favorite pastime--sewing clothes--and talk to other people who are also passionate about sewing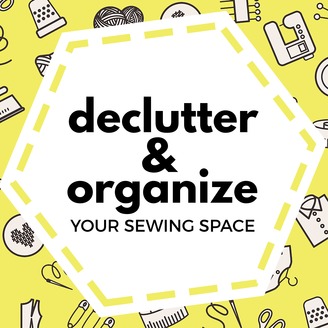 Declutter and Organize Your Sewing Space
Declutter... and unleash your creativity. Nadia Arbach helps you declutter and organize your creative workspace so you can do your best creative work.
Business Shet with Mimi G   (While I wouldn't say this is a podcast about sewing,  Mimi G became well known through her sewing tutorials/videos and sewing patterns.)
Business S.H.E.T is a weekly podcast hosted by Mimi G (founder of Mimi G Style, Inc.) The podcast will discuss topics of business and self development that Mimi G wished someone had told her before she leaped into the world of self-employment. Using life experience, business highs and lows and candid commentary Mimi G will be providing actionable insights you can implement to grow your business and change your life.
Stitcher's Brew Podcast - They have not posted since February so I'm not sure if they are taking a break or no longer posting - A cup of tea and crafty chatter with Gabby and Megan!
While no new content is being made, the old episodes from these podcasts are still available: Maker Style, Crafty Planner, Seamwork Radio
Sustainability:
A podcast exploring what it will take to transform the fashion and apparel industry so that it contributes positively to the lives of people and the health of the planet.
Each podcast episode provides apparel industry executives with a platform from which to showcase their personalities and share their perspectives on a range of engaging topics, enabling listeners to consider new points of view and plot their next steps.
Conscious Chatter with Kestrel Jenkins
An inclusive audio space, Conscious Chatter opens the door to conversations about our clothing + the layers of stories, meaning and potential impact connected to what we wear. Hosted by conscious fashion freak Kestrel Jenkins, Conscious Chatter is a venue that allows us to continue to learn more about the garment industry and how we can all be a bigger part of positive change in the industry.
WARDROBE CRISIS with Clare Press
WARDROBE CRISIS is a sustainable fashion podcast from VOGUE's sustainability editor Clare Press. Join Clare and her guests as they decode the fashion system, and dig deep into its effects on people and planet. This show unzips the real issues that face the fashion industry today, with a focus on ethics, sustainability, consumerism, activism, identity and creativity.
Business with Purpose takes you "behind the scenes" with some of the world's most generous entrepreneurs with host Molly Stillman of "still being molly." From the CEOs of mission-driven brands, to directors of small, community non-profits, and everything in between, Molly is sitting down with men and women who believe in changing the world through not only their personal lives, but also their professional careers. 
Fashion:
Dressed: The History of Fashion
Fashion history is about more than pretty clothes. Dressed explores the incredibly rich and complex history behind the clothes we wear.
Fashion History with American Duchess
Join Abby Cox & Lauren Stowell as they sit down and discuss the wide array of topics and ideas behind all things related to fashion history. Interviews, discussions, reviews, shenanigans, and more!
American Fashion Podcast is a fashion show for fashion people, diving deep into the designing, making, and selling of garments and accessories through long-form interviews with people at all levels and in all corners of the business, with an emphasis on sustainability and innovation. 
A podcast with a focus on fashion history. They want to educate the public about the importance of fashion in history and daily life, inspire conversation and discussion within our digital platforms.